It's a month and a half since the Government of Uganda advised all schools to send students back to their homes. This came in the wake of the Covid-19 pandemic that posed a serious threat to the public especially due to contact with infected people in crowded areas.
The school term was barely mid-way, schools had already made plans for the entire year yet there was no clear end in sight.
The Covid pandemic has brought a new dimension to education in Uganda. At the beginning of the lock down, a few schools started by sending resources through the available means. Parents near schools would pick the packages and those from far would receive them through major platforms like WhatsApp and google classrooms.
The above platforms where an easy route to share study materials because only a few schools like Gayaza High School, Kings College Budo, Ndejje SSS and Bishops SS Mukono had existing and time tested e-learning platforms.
It should be remembered that the resources that were shared in the beginning were mainly exercises, just to keep students academically active during this unprecedented break. As hope for an end to the pandemic became distant, schools started sending class notes. The question then arises; are we as teachers really passing on knowledge? …or are we simply dumping whatever we come across online?
As teachers, it is now important to realise that we cannot simply send assignments and class notes (Which are sometimes substandard) without engaging the students.
According to Wikipedia, "Education is the process of facilitating learning, or the acquisition of knowledge, skills, values, beliefs, and habits." So, despite the current situation, education must go on. The government and school administrators are obviously thinking of ways in which the process of education can continue even when students and educators are geographically apart.
It is obvious that technology is our saviour. There are already tons of options that technology has for the field of education. Examples of solutions in place include simple file sharing platforms like WhatsApp, class like environments like Google Classrooms, video conferencing solutions like skype and zoom and fully fledged e-learning platforms like moodle and LearnPress.
Sadly, despite over 3000 UNEB centers in Uganda with teachers of ICT, only a dismal fraction of them have used any of the platforms above to continue the process of education during the lockdown.
Your role of as ICT Teacher
In these unprecedented times, how ready are you for technology aided education and instruction? If the school board invited you to advise them on a way forward, will live up to the billing or are you just another bill?
As a teacher of ICT or Computer Studies, you are under obligation to lead the pack in the race towards embracing technology within our education systems. You should provide yourself as a source of reference as educators and education administrators try to chart a way forward in implementing new technologies in the dispensation of knowledge.
Some names to borrow a leaf from are, Mr. Kalema Ayub Golooba of Nabisunsa Girls School, and Mr. Ddungu Ronald formerly of Gayaza High School.
While ICTs in education were and are still thought of as a luxury in schools the two mentioned above have over the past decade been part of the implementors of future proof platforms in their schools. It is amazing to note that neither of them trained as a teacher of ICT.
Nabisunsa Girls School where Mr. Ayub Kalema Golooba teaches has a fully fledged e-learning platform based on moodle. Gayaza High School's e-learning platform has been around since the days when Mr. Ddungu Ronald was an administrator at the school.
What you can do
Embrace technology
The first step would be to break the status quo and appreciate ICTs as a perfect partner in content delivery. It has been noted with concern that even when many of us are teachers of ICT, we seldom practice what we preach. This is evidenced by the fact the not many teachers of ICT have digital content for their classes.
Learn to make videos
It is popular knowledge that class notes are better understood by a learner if they are well illustrated. Illustrations add spice to the lesson and can even make a learner study longer. If many of the concepts are also accompanied by a video, then the process of education is then simplified.
Mr. Wejuli Moses of Buloba High School led by example when he explained a concept in Ms. Access in the video below.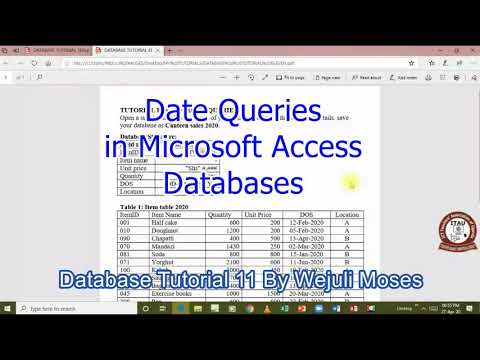 In scenarios like these where teachers are geographically separated from their learners, a video of a concept shared on an online platform would be a big dividend. Students can play, pause, rewind and even store on YouTube for future reference. These videos can then be accessed even in the absence of a teacher, yet learning continues.
Join as a trainer on e-learning platforms
E-learning platforms are increasingly becoming popular. We have been used to global leaders like Udemy, Coursera and Lynda.com but now, local alternatives like the newly launched www.mageziacademy are here to sort out our local needs.
As teacher of ICT, you ought to be among the pioneers of online content creation by signing up on any of the available platforms. These platforms give teachers the ability to earn by holding classes with students they have not physically met. It would be a shame if a non ICT teacher jumped onto the trend before the teacher of ICT.
Attend short courses
Attending short courses will help you improve your knowledge of the subject. On top of that, the experience you get from another teacher helps you improve how best you can also deliver your own lessons.
When attending these courses, take keen interest in the pedagogy and any other avenue's they are using to get to you. This helps you be a better implementer of classes outside the conventional four walls.
Test several avenues of delivery
While delivering your own lessons, try out several avenues of implementation. Think outside the box and venture into new approaches. For example, how differently can you give students a set of multiple choice questions? If the method you are currently using was the same method your parents used, then remember that times are fast changing and you shouldn't be caught off guard.
Engage with people already doing it
Like they say "Iron sharpens iron", you can only get better at your profession if you engage or interact with fellow practitioners. The ideas exchanged with people who have done e-learning before can make you make informed decisions in your desire to change the way we deliver lessons.
In conclusion, whether we accept it or not, the COVID-19 pandemic has altered the way we are going to deliver lessons. As teachers of ICT, we are at the forefront of helping schools in transitioning from the conventional 4 wall classroom to a mixed approach. Luckily, we have the training and the tools are already available. – Don't be caught offguard.
_____________________________
Stephen Dumba is the co-ordinator Central Region ICT Teachers Association of Uganda. Besides teaching, he is a veteran Computer Repair Technician and a Web Designer
+256 772 111 223 / +256 752 111 223
_____________________________